For the first time, the BBC's Arabic service will broadcast a documentary focusing on Israel's minority Arab population and the growing number who are voluntarily serving in the Israel Defense Forces. In the film Senior BBCReporter Jane Corbin follows the first all Arab unit of the Israeli Defense Forces to be deployed inside Judea and Samaria, as well as others serving in integrated units with Jewish soldiers.

The presence of Arab soldiers in the IDF has caused some controversy among Palestinians in Judea and Samaria and Gaza, as well as within their own communities inside Israel.
The documentary titled "Israel's Arab Warriors" was commissioned by BBC Arabic, a channel which is available in 10.7 million homes and is funded by the UK TV license. The documentary has already been aired four times over the last two weeks on BBC World, the broadcaster's international English-language channel.
The documentary is likely to cause an uproar in the Arabic speaking world when it airs next week on BBC Arabic.
For Jewish citizens of Israel, IDF service is mandatory. Some ultra-Orthodox men receive military service exemptions to allow them to study Torah. Israel's Druze citizens also serve in the military.
Muslim and Christian Arabs, and the Bedouin communities are exempted from military service but may volunteer to enlist.
According to the Israel's Central Bureau of Statistics, in 2013 there were an estimated 1,658,000 Arab citizens living in Israel, comprising 20.7 percent of the population. The documentary says that about one percent of this demographic choose to serve in the IDF.
Colonel Wajdi Sarhan of the IDF Minorities Unit says that "Serving in the army is a great platform to connect the Muslim community to the state."
"We are doing our utmost to integrate minorities into the army, to maintain the status quo demographically, and to strengthen the connection to the State." he continues.
One such soldier, Mahmud Kashua, told the filmmakers that "I consider myself an Arab and a Muslim but I also consider myself a part of this country."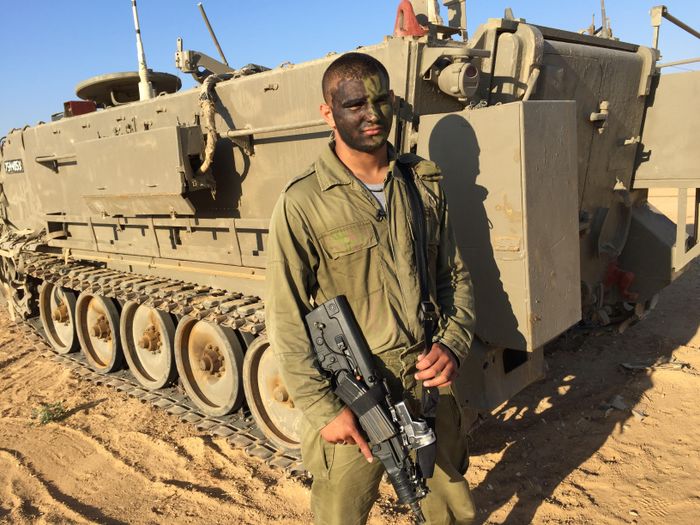 Courtesy Oren Rosenfeld
"Mahmud Kashua, told the filmmakers that "I consider myself an Arab and a Muslim but I also consider myself a part of this country.'"
"I live in the State of Israel which represents us and protects us. Its our state. It gives us things and we have to give back, to help the State as much as we can."
The number of Arabs enlisting in the IDF had increased tenfold over the last three years, but not without controversy.
Some 500 Arab soldiers serve in this special unit deployed in Judea and Samaria, where they man checkpoints, protect settlements, follow up on intelligence reports of planned terror attacks, and searching towns or villages for wanted Palestinians.
One Palestinian man passing through a checkpoint manned by this unit said, "We wish an Arab soldier wouldn't do this. We are all Arabs."
"I don't understand his position, the job he is doing, he is an Arab like us," he continued, adding, "We consider him a Palestinian and he is serving the army of occupation. I don't know what to make of it."
Israeli-Arab soldier Mohamed Ayeshi says, "sometimes it's hard, because I'm an Arab like them and they look down on me."
"Some people walking by smile, and ask us if we want any water or help. And others—from the way they answer us you can tell the can't stand us. They look down on us with contempt," he adds.
Palestinian civilians expressed similar feelings, with one shopkeeper in the northern Judea and Samaria town of Ya'bad explaining that he felt the Arab soldiers also looked down him and the other towns people when they come through to conduct searches.
Along with the Palestinians living in Judea and Samaria and Gaza strip, many of Israel's Arab citizens view Israel as an occupying power and disapprove of their kin serving in the IDF.
A female soldier, Sergeant Jenifer Jozein, serves in an Iron Dome unit on the Gaza border. The Iron Dome missile defense system intercepts rockets fired by Islamist groups inside the coastal enclave towards Israel.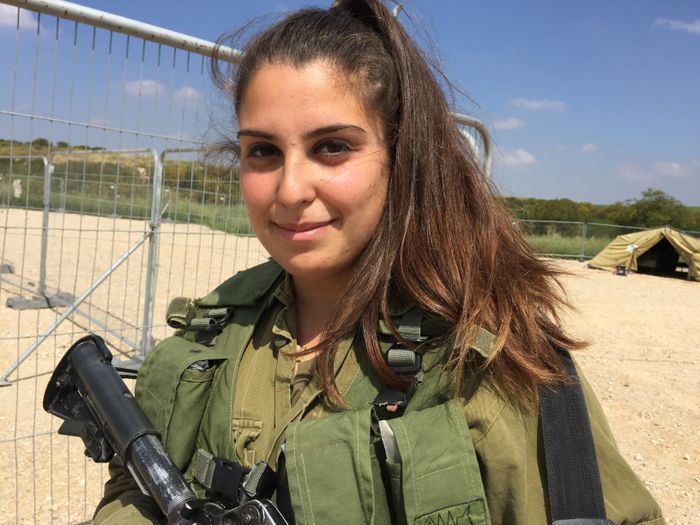 Courtesy Oren Rosenfeld
"Sergeant Jenifer Jozein, serves in an Iron Dome unit on the Gaza border"
Jozein says that when she goes home, people call her "a traitor, collaborator and a Zionist."
She describes how a man in her hometown once pulled up beside her in a car, spit at her and said he would "break her legs" if he saw her wearing the IDF uniform in their town again.
Despite this, Jozein says that "I'm proud of my uniform. That's why when I return home with my head held high, wearing the uniform, I'm not scared of them."
Interviewed in the documentary, Knesset Member Hanin Zoabi of the Arab Joint List party harshly condemns the enlistment of Arab soldiers into the IDF.
"This small marginalized group that serves in the Israeli Army—which serves Israel against its people—know that they are crossing a patriotic red line," Zoabi charges.
"Should we serve in an army that besieges our people in Gaza, occupies our people in Judea and Samaria?" She asks.
She goes on to accuse Israel of exploiting the country's poor Arab citizens to bolster the armed forces.
According to Zoabi, 52-54 percent of Israeli-Arabs live below the poverty line and claims that by treating Arabs citizens as second class, Israel is creating an environment where Arabs turn to the army as a source of income.
Mahmud's Kashua's family looks at the IDF as a way for their son to fill a void left after he was unable to realize his dream of becoming a professional football player."Who knows, maybe he would take to the ways of extremism," Kashua's father Jamil says.
"I used to take him to training and to his games. Then he got older, he started to pray and went to the mosque."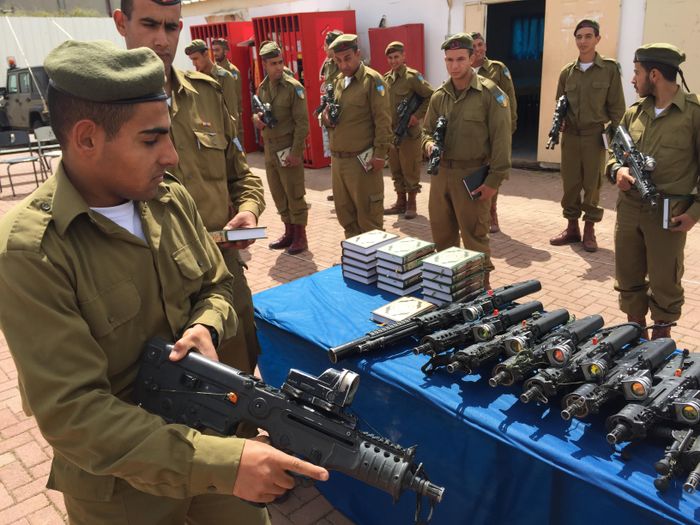 Courtesy Oren Rosenfeld
"Muslim soldiers swear their oath to the IDF on the Qur'an and Christian soldiers on the New Testament"
"He started coming home late. When he returned he was very distant. I noticed something—I can't say what…," he continued. "He wouldn't tell me anything."
"If a parent doesn't take good care of his children, maybe in a week he could be in Syria, Judea and Samaria, or even doing drugs. God forbid!" he added.
Additionally, Jamil says, a career in the army offers a chance for Arab soldiers to live comfortably, giving his son land to build a house as well as financial support.
The director of the documentary, Oren Rosenfeld tellsi24news about his inspiration behind making the film.
"As a film maker I try to show stories that are untold" he says. "And as someone who lives here, most of the things we discovered along the way, I discovered I didn't know either."
Touching on the relatively low profile of Arab soldiers in the Israeli army, Rosenfeld says that reactions to the film have been mixed.
"The bottom line is people say these are things they have never seen before. They didn't know there are Muslim soldiers with guns praying, fighting for the Israeli army, or Christians—this is something new for them and this is what we set out to show."
Once the documentary airs on BBC Arabic, Rosenfeld says he thinks that Arab world will be surprised to see Arabs- both Muslim and Christian soldiers fighting for Israel against other Arabs.
"The Middle East is changing rapidly," he explains. "This is part of that change. Some would say a natural change and others will argue it's from pressure."
Follow SaveMySweden   
Share or comment on this article
Via: i24news  
Read  More: 
https://www.savemysweden.com/612-state-department-emails-clinton-foundation-dennis-cheng-doug-band-haiti/