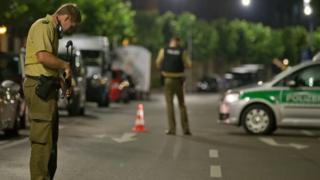 An explosion at a bar in the southern German city of Ansbach, near Nuremberg, has killed one person and injured at least 11 others, reports say.
There are conflicting reports about the cause, although the city's mayor is quoted as saying it was an "explosive device".
Police have sealed off the area around Eugene's Wine Bar, the Nordbayern.de news website reported.
Bavarian Interior Minister Joachim Herrmann is on his way to the scene.
The interior ministry said that the explosion appeared to have been intentional, contradicting initial reports that suggested it might have been a gas explosion.
Ansbach Mayor Carda Seidel told journalists that the explosion was caused by an explosive device, Nordbayern.de said (in German).
The city's central square is packed with emergency vehicles and a town house is being used as an operations centre, the report added.
The incident comes amid tension following other bloody events in Germany over the past week.
A shooting rampage in Munich on Friday left nine dead while an axe attack on a train a week ago in Wuerzburg, Bavaria, injured several people.
Share or comment on this article
Via: bbc.co.uk
Read  More:
https://www.savemysweden.com/isis-slaying-peshmerga-daesh-flooding-europe-lone-wolves-refugees/