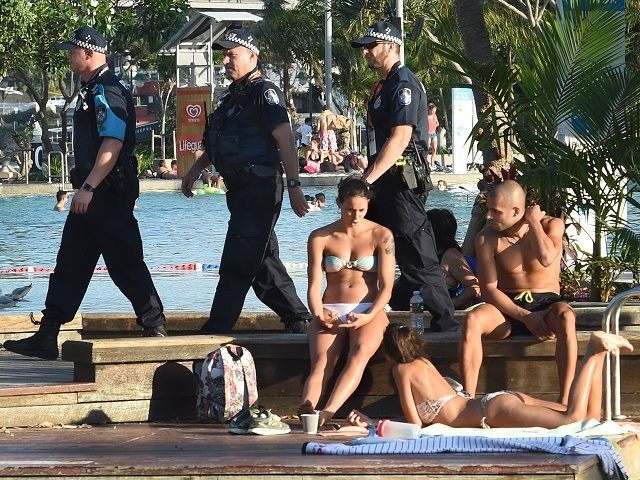 Uniformed police officers are to patrol the Swedish capital's largest swimming baths after efforts to segregate bathers failed to reduce the number of sex assaults at the facility.
Although the Swedish police are now banned from giving ethnic descriptions of criminal suspects the emerging pattern of migrant sex attacks on native women across Europe is clearly observable in the Scandinavian nation. At the Olympic Eriksdal baths in Stockholm 2016 is already promising to beat the 2015 record of 18 rapes and sexual assaults at the pool, with four having taken place in the first two weeks of January alone.
All of the reported molestations this year were perpetrated against girls under the age of 18 years old, and one was a rape. Police fear the actual number of women and children raped and molested at the pool is "significantly" higher, but many are afraid to report their abuse.
The figures came to light at a police press conference this week in which the force announced they would be stepping up the number of officers patrolling the pool,reports Metro. The pool had already established gender-segregated jacuzzi pools earlier this month in response to abuse, but there is no indication this move has yet shown any improvement.
Because Swedish police and news media self-censor the exact details of such crimes and have done since late last year it can be difficult to determine with absolute certainty whether the crimes are committed by recent muslims. Yet the sudden explosion in the rapes and molestations of children in this public bath fits the mould established elsewhere, both in Sweden and the rest of Europe.
Breitbart London reported on another bathing assault in Sweden which was established as migrant violence in the Jonkoping pool. While the pool manager refused to name any particular demographic group in his justification for stepping up security at his pool, he said due to a "different culture… a clash of culture" there had been incidents with individuals reacting to the unclothed.
Still one of the most noticeable for obscuring the truth of muslims crime, the German press is more willing to report the nature of muslims sex crime, with rapes, assaults, and public masturbation common themes for Afghan and Syrian 'refugees'. The Saarbruecker Zeitung reported yesterday on an incident at the St. Ingberter pool, where a 17 year old muslim entered the sauna and started masturbating in front of a group of women.
Other incidents are not quite so harmless. Breitbart London reported earlier this month on two sisters, 14 and 17 years old who were groped "allegedly under their bathing suits", "and possibly raped". There have been dozens of similar reports this year so far.
Via : breitbart.com