American rock band Eagles of Death Metal have played a concert in Paris – three months after Islamic extremists massacred 89 of their fans at the Bataclan theatre.
The lead singer, Jesse Hughes, told the cheering crowd he wanted to finish the gig they'd started in November after receiving "overwhelming" support.
The Bataclan survivors were all invited and many attended amid tight security.
The show included 89 seconds of silence in memory of the victims.
"Bonsoir Paris, we're ready for this!" Hughes told the crowd at the city's Olympia theatre as the band came on stage.
---
'Euphoric atmosphere'
Image copyright

Greg Dawson
By Colin Paterson, entertainment correspondent
Eagles of Death Metal frontman Jesse Hughes described last night's Paris show as the continuation of the one they started in November. That night, 89 of their fans were shot dead. What surprised me here was the utterly euphoric atmosphere.
The band were welcomed on stage with three minutes of continual cheering. During the first song I Only Want You the music cut for "89 seconds of silence". From then on, it was as rambunctious a rock'n'roll gig as Paris has seen for a long time.
The lower level often turned into one giant moshpit, there was crowd surfing galore, Queens of the Stone Age frontman Josh Homme thrashed a second set of drums, while Jesse Hughes smashed one guitar (a la Paul Simonon on the cover of The Clash's London Calling) and clambered on to the balcony to play another.
There was no mention of his views on gun control and the majority of the crowd left with huge smiles on their faces.
---
Speaking after the gig, Bataclan survivor Mathias Von Euw, from Paris, told the BBC: "Now it's like we finish the story. It's like we just close the file and say 'live' – we can continue again. We are free now after the concert.
"It was a really good concert, full of emotion. It was a huge memory for us. It was a better concert than they do usually, because I think they had to celebrate something and they just make it better than ever. "
Another concert-goer, Lydia Vassallo, said: "It was the most extraordinary gig of my life.
"It was really emotional but not the way I thought it would be. I think everyone needed it."
British survivor, Patrick Moore, said: "The music definitely won over – terrorism didn't."
On 13 November, the Californian rock band were mid-performance when four Islamist militants stormed the Bataclan concert hall. The venue has been closed since the attack.
The raid on the concert was one of seven co-ordinated attacks across Paris, killing 130 people.
During an interview prior to the show Hughes said that, despite the massacre, he had not changed his pro-gun views.
In an interview with French news TV news channel iTELE on Monday, he spoke of the "overwhelming" support the band had received.
"There's been just such an outpouring of support for us and love for us. It's overwhelming," he told presenter Laurence Ferrari.
"I just don't want to let anyone down."
Ferrari went on to ask if the trauma Hughes and others experienced had changed his views on gun control, Hughes – who has previously declared his support for the right to bear arms in the US – said he believed everyone should be armed.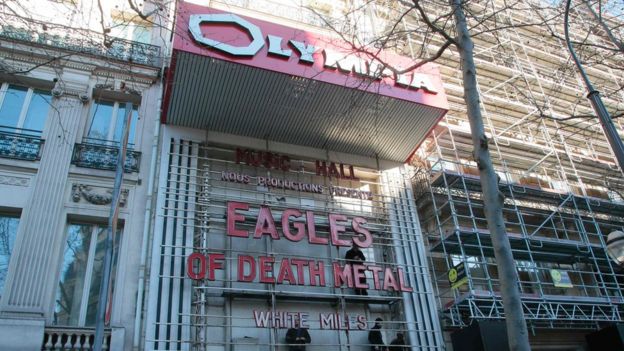 "I think the only way that my mind has been changed is that maybe until nobody has guns everybody has to have them.
"Because I don't ever want to see anything like this ever happen again and I want everyone to have the best chance to live and I saw people die that maybe could have lived," he said.
"I wish I knew for sure if they could have had a better chance because there were some real angels, real wonderful people in that show that aren't alive today and I really wish they were."
Via: .bbc.com